To be announced.
Dr. Sumei Zhang
The Title: Does the Use of Public Services Contribute to Housing Price? A Study of Louisville's 311 Service Calls
Brief Biography:
Dr. Zhang is an Associate Professor from the Department of Urban and Public Affairs at the University of Louisville (http://www.louisville.edu/upa). She currently serves as the vice-president of the Mid-Continent Regional Science Association (http://www.mcrsa.org/). Her research interests include economic data mining, regional economics, research methods, and urban sustainability.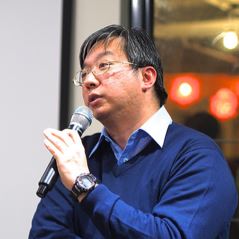 Dr. Tzai-Hung Wen
The Title: How Much Is a City's Response Capacity against a Pandemic
Brief Biography:
Tzai-Hung Wen is a Professor of the Department of Geography, and the Director of Spatial Information Research Center, College of Science, National Taiwan University (NTU). He currently also serves as the Chairman of the Chinese Cartographic Association, the Editor-in-Chief of the Journal of Population Studies, and the Editorial Board of BMC Public Health. His primary research topics deal with the methodological issues in geospatial sciences for better understandings of spatial-temporal complexity in population health and the urban environment. He focused primarily on developing geospatial algorithms for profiling multi-dimensional spatial-temporal processes from mobile geo-sensors, crowdsourced and open data platforms. Recent studies focus on characterizing the space-time progression of epidemics, how people's mobility structures influence spatial diffusion patterns and disease transmissibility. These original articles are published in Scientific Reports, Annals of the American Association of Geographers, International Journal of Health Geographics, and Applied Geography.